I know, I know. My Writing Prompts have been getting me a TON of traffic, particularly the one from this past weekend. So thanks for clicking on something else 🙂
Don't forget to follow my blog for new updates! (And that INCLUDES more Writing Prompts and updates on my Novel's release) Woop Woop!
If you have been following this particular topic, you should have already come up with your novel's Main Idea/Inspiration/Basic Story, Characters, and Setting(s). And now, it is time to get to the Meat of the Story, so to speak. Outlining.
Just the same with Character Creation, you can get as vague or descriptive as you'd like. I'm going to give a quick run-down, show you how I outline, and give some other examples that may strike your fancy. 😀
So, what is the purpose of an outline? Why even bother with one? Well, most writers use some format to keep their ideas succinct. It also helps view a small snip-it of your entire novel without typing out 70,000+ words. You can utilize it how you want, move things around, and change ideas before getting started on your first draft. Not only will it help keep you on track, it can be a great tool to start the best story that you can.
Like I mentioned before, an outline can be vague or detailed. A list of chapters with a sentence or two stating the general idea to one page detailing each scene in the chapter, anything will work!
I use Google Docs so I can retrieve it whenever I have access to Wi-Fi. And in my experience, I tend to work best with only a paragraph or two per chapter. With each one, I outline things by topic, namely, what I want to accomplish and what points I want to make. If there is anything specific that I want to add, I will put that under the note in a separate bullet point. Sometimes, that is a quote, an exchange, or a significant scene. I am an author that does not particularly care to detail everything out. When I sit down to write, I would rather let my present creativity take over my fingertips than what I wrote down days or months prior. And at times, my writing surprises even me.
Example
[TITLE]
Chapter (#)
Main idea

Minor idea (notes), any specifics
Chapter (#+1)
Etc.
That is just one way to write an outline.
Another example is writing scenes on index cards. You can lay out in front of you and scramble them how you wish. This works really well if you have a ton of ideas and no clue how to organize them.
Another way that is similar to how I outline is through a spreadsheet. You can use Microsoft Excel or Google Spreadsheets for this. Writers who have a very exact way how they would like their novel to be would benefit most from this way.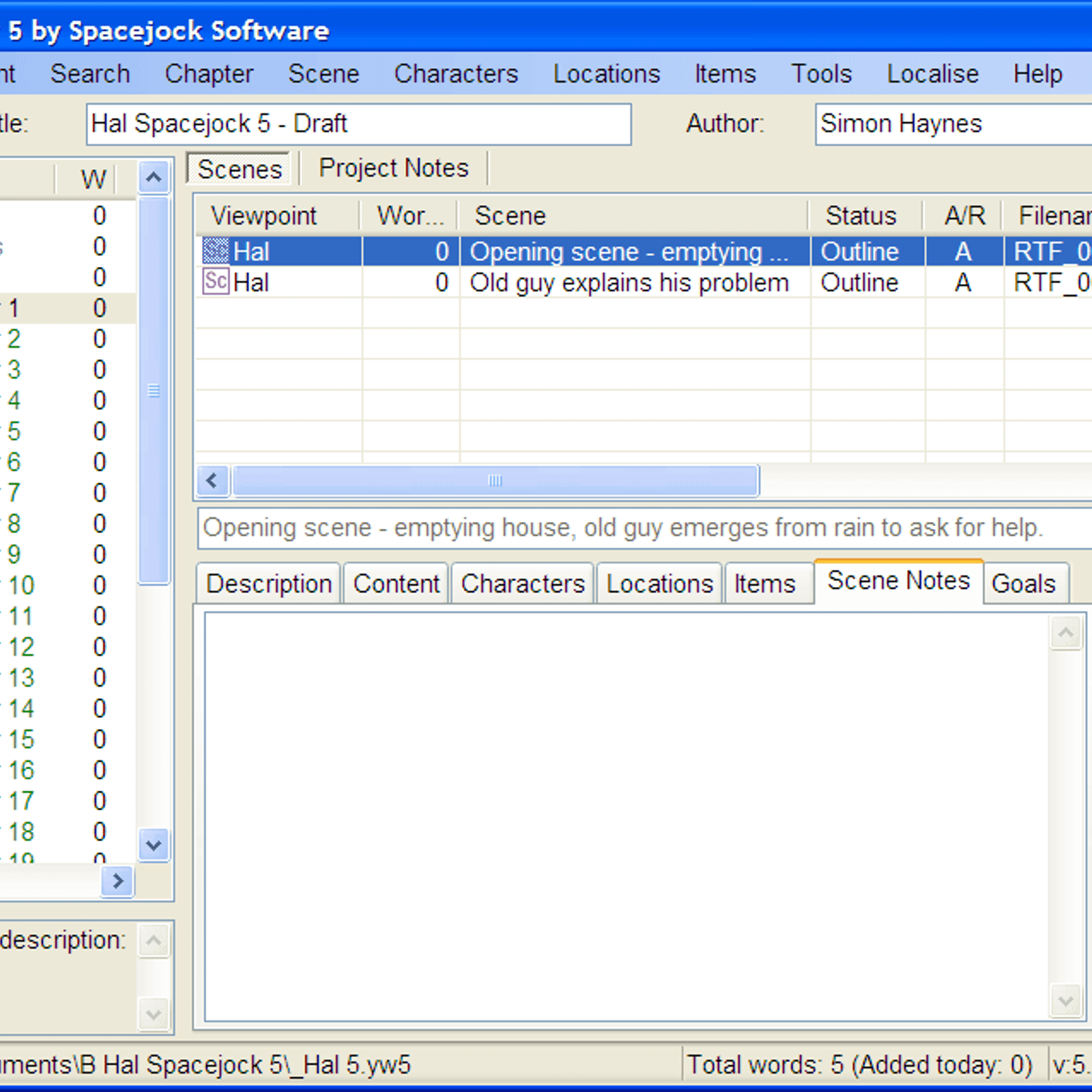 yWriter is a great software for anyone who is obsessive with organization. I used it for time, but my mind is a bit crazier than that. Best of all, IT'S FREE! 🙂
Probably the best way, in my opinion, to outline your novel, is through Scrivener. With this software ($45), you can outline, write, and edit all in one place.
The way they describe it is, "See the forest or the trees." Basically, you can be as specific or as vague as you'd like. You can organize your thoughts with color and outline. You can flag things with each edit, etc. For less than $50, it's a great deal!
Once you have this done, you are ready to start your first draft! Stay tuned for the next installment of "Let's Write a Novel: First Draft!"